The
BetVictor App

Review & Download Guide

The BetVictor app, formerly known as vcbet, is amongst the very best mobile betting apps available on today's market. The app comes from the stable of Victor Chandler, a well-known UK bookmaker who have been around since the mid 1940s.  Our review team put this betting app through its paces on various devices including Android & iPhone and found the plus points to be usability and free bet offer.

Now, if you want to ensure that you get the free bet bonus available on the BetVictor app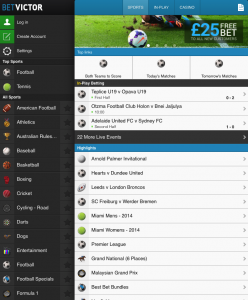 the process is simple. The prerequisites are that you need to be of legal gambling age and that you are a new customer. They will give you up to a  £60 free bet bonus on signing up with them.  All you need to do is follow this link or tap/click on the image to the left to ensure you secure it. After that, go through the new customer registration process.  Make sure that you do this first.
BetVictor App install options
As you will have noticed there is no need to worry about which mobile, tablet device or even type of computer that you are using.  BetVictor is a mobile web app that will detect what kind of device that you are using and adjust accordingly.  Clever eh?  You can place a bookmark on your home screen to the mobile app.
*Update* – Since the introduction of the BookieBoost app, we recommend installing this if you use Androids or Apple device to use BetVictor.  BookieBoost centralises your betting in a single app and lets you claim all of the bet bonuses available from BetVictor and multiple bookies.  See the install buttons below to download this free app:
Login to Bet and Play
Now you're registered it's time to explore what the BetVictor app has to offer.  The main menus tell you what you need to know about it.  The app specialises in sports, in-play and casino.
Primarily though, this is a sports betting app first and foremost. We really like the alphabetical listing of all sports which can be accessed from the left hand side menu.  Then there are the quick links to all of the other sections on the mobile site.
In the sports betting section there are almost endless odds on football, horse racing and other markets. BetVictor really does a very comprehensive job of betting lines and is one of the best for football betting and horse racing as betting apps go.
The Company behind the BetVictor mobile app
Now known as one of the top bookmakers in Europe, not just the UK, BetVictor has a rich tradition in the industry. With this experience their development team has created one of the easiest to use mobile betting apps in the BetVictor mobile app.  It is a cut down version of the web site and this lets you focus on what's important without some of the distractions you can get on a bigger screen.
Several people have asked,  just who is Victor from BetVictor?  Well, the familiar face is that of British business tycoon Victor Chandler who was previously chairman of the company.  The history is that the firm started out by Victor's grandfather William Chandler in 1946 and the ownership of the firm passed to his son Victor Senior before being down again to Victor Junior in 1974. Much later, Victor Chandler (and the online operation known as vcbet) was re-branded to BetVictor. Victor Chandler Jr. sold his ownership of the company to business man Michael Tabor in May 2014 and Tabor now has 100% control of BetVictor.
If you are a collector of several mobile betting apps because of the free bet bonuses on offer,  the BetVictor app should not disappoint.  There's a healthy signup bonus and it works across the whole range of mobiles and tablets.
Recommended.
Notable Features
Android Compatible
iOS Compatible
Welcome bonus
Football, Horse Racing, Tennis, Snooker betting markets
Casino
The BetVictor app is designed to be compatible with all Android devices.  These include:
Google: Galaxy Nexus, Nexus 4, Nexus 5
HTC: Desire, Desire S, Desire X, Desire HD, Incredible S, Sensation, Sensation XE, One, One Mini, One V, One S, One SV, One X, One X+, One XL, One M8
LG: Optimus 4X HD, LG G2, LG G3
Samsung: Galaxy S, Galaxy S2, Galaxy S3, Galaxy S3 LTE, Galaxy S3 Mini, Galaxy S4, Galaxy S4 Mini, Galaxy S5, Galaxy Ace 2, Galaxy Note, Galaxy Note 2, Galaxy Note 2 LTE, Galaxy Note 3, Galaxy Mega 6.3
Sony: Xperia E, Xperia M, Xperia M2, Xperia S, Xperia SP, Xperia T, Xperia Z, Xperia Z1, Xperia Z1 Compact, Xperia Z2, Xperia Z3, Xperia Z3 Compact, Xperia Z Ultra
Motorola: RAZRi, RAZR HD, Moto G, Moto X
The BetVictor app works with all Apple iOS devices.  These include:
iPod touch, iPhone 3, iPhone 3GS, iPhone 4, iPhone 4S, iPhone 5, iPhone 5S, iPhone 5C, iPhone 6, iPhone 6 Plus
The new iPad as well as iPad, iPad 2, iPad 3, iPad 4, iPad Mini, iPad Air & Air 2.
Did you find this review of the BetVictor app useful? If so, you may also wish to check out BetVictor for iPhone, iPad or BetVictor for Android.  There's even a BlackBerry BetVictor review.  The best mobile betting app shortlist contenders for more free bet offers including the Paddy Power mobile app.
Betvictor Mobile app
App price: Free