Receive a free £30 bet bonus with Paddy Power Mobile
Thanks to its auto-detection functionality, it doesn't matter which mobile device that you access the Paddy Power mobile site and register as a new customer.  The Paddy Power mobile app site adjusts accordingly, whether you have an Android, Apple or even BlackBerry for that matter. We've tested the app on numerous mobile phones and tablets and found it easy to use; Thanks to their quick link menu found at the bottom of the screen (see screen shots below from an iPhone and iPad) you can find the most commonly used areas including current promotions.  Paddy specialises in sports betting so there are plenty of football and horse racing bets on offer.
How to claim the free bets
First, visit the Paddy Power website here. Open up a new account by following the on-screen instructions.
The offer is 'Bet £10, Get £30' and thankfully it's as simple as it sounds.  There are a lot of betting offers available from numerous operators that involve a series of individual bets but Paddy's is pretty straightforward.
After registering, you deposit and bet £10 on any sport with odds of 1.5 or more.  As long as your first stake is £10 or more, £30 will be credited to your account in the form of three separate £10 free bets.   Use them up within 30 days, though, as they'll expire if unused with that time period.
Once you're up and running you can continue to use the Paddy Power mobile app site to place your bets.  We recommend accessing it via the BookieBoost app (details below).
About the Paddy Power Mobile App
Paddy Power is well-known as the most advertised bookmaker to come out of the Emerald Isle and the Paddy Power Mobile app has come up trumps with a clean and easy to use design for this app and mobile site.  One of the big selling points that PP advertises are their famed Money Back Specials.  These give you a second chance to claw back some money when a bet goes awry but another event of their choosing also happens (for example, if a football match is a draw)
It goes without saying that you need to be over 18 to use the Paddy Power mobile app.  To get into the details off the app further, it's well structured and allows you to browse by alphabetical listing (see tablet screenshot below from the Paddy Power mobile app).
Grab the free betting signup offer here.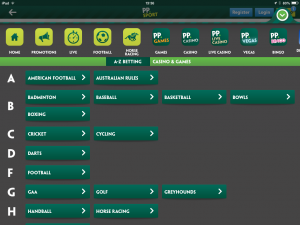 To download the Paddy Power Mobile App
You can choose to use the Paddy Power mobile web site version or the download the Paddy Power mobile app which is available for all types of mobile. Of course these are practically identical although getting the Paddy Power mobile app means going through some additional steps.
It depends on which kind of mobile you have, too.  For the iPhone and iPad series you can try searching the App Store for the Paddy Power mobile app there.  Android users at time of review can't get any real money betting apps from Google Play.  However, for both of these we recommend the BookieBoost app which gives you access to the Paddy Power mobile app plus plenty of others as well as loads of free betting tools.  BookieBoost centralises your betting in a single app, gives users live score updates, plus extras like betting calculators for football and horse racing so it's well worth having on your smart phone or tablet.
You can get BookieBoost using the download links for Android and Apple devices below:
You can download this useful betting utility app from third part app stores such as GetJar (for Android users).
Paddy Power Mobile Compatibility
PP on Android
Apple
Windows Mobile
Blackberry
Google: Galaxy Nexus, Nexus 4, Nexus 5 HTC: Desire, Desire S, Desire X, Desire HD, Incredible S, Sensation, Sensation XE, One, One Mini, One V, One S, One SV, One X, One X+, One XL, One M8 LG: Optimus 4X HD, LG G2, LG G3 Samsung: Galaxy S, Galaxy S2, Galaxy S3, Galaxy S3 LTE, Galaxy S3 Mini, Galaxy S4, Galaxy S4 Mini, Galaxy S5, Galaxy Ace 2, Galaxy Note, Galaxy Note 2, Galaxy Note 2 LTE, Galaxy Note 3, Galaxy Mega 6.3 Sony: Xperia E, Xperia M, Xperia M2, Xperia S, Xperia SP, Xperia T, Xperia Z, Xperia Z1, Xperia Z1 Compact, Xperia Z2, Xperia Z3, Xperia Z3 Compact, Xperia Z Ultra Motorola: RAZRi, RAZR HD, Moto G, Moto X
iPod touch, iPhone 3, iPhone 3GS, iPhone 4, iPhone 4S, iPhone 5, iPhone 5S, iPhone 5C, iPhone 6, iPhone 6 Plus The new iPad as well as iPad, iPad 2, iPad 3, iPad 4, iPad Mini, iPad Air & Air 2
HTC Touch, HTC S710, HTC Touch Pro, HTC Touch Pro2, HTC 7 Trophy, HTC HD7, HTC Radar, Samsung Omnia Pro, Samsung Omnia II, HTC HD Mini, LG Optimus 7, Nokia Lumia 710, Nokia Lumia 800, Nokia Lumia 900, Nokia Lumia 620, Nokia Lumia 820, Nokia lumia 920, Any Windows Mobile 5, Windows Mobile 6, Windows Mobile 6.5, Windows Mobile 7 or Windows Mobile 7.5 Device & Windows Mobile 8
Blackberry Curve 9380, Blackberry Bold 9790, Blackberry Curve 9360, Blackberry Curve 9320, Blackberry Torch 9810, Blackberry Torch 9860, Blackberry Torch 9850, Blackberry Bold 9900, Blackberry Playbook, Blackberry Bold 9780, Blackberry Curve 9300, Blackberry Curve 9320, Blackberry Torch 9800, Blackberry Pearl 9105, Blackberry Curve 8520, Blackberry Bold 9700, Blackberry Storm 9500, Blackberry Playbook, Blackberry Z10 & Blackberry Q10
Paddy Power Mobile App Information
Whilst its roots lie in Ireland, Paddy Power Holdings is based in the Isle of Man and is regulated by the Isle of Man Gambling Supervision Commission.  Paddy Power plc is still located in Dublin, Ireland.  The app is one of the highest rated mobile betting apps on the market and it is recommended that if you are into your betting that you make it part of your collection of mobile betting apps.
Paddy Power Mobile app
App price: Free
You might also like:
Paddy Power Bingo