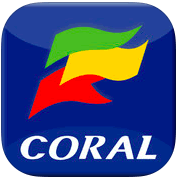 Continuing our analysis of online bookmakers' apps, here's a quick guide to downloading the Coral Android app and claiming the introductory offer as well as a review of the app.  In our view, the headline points are that the Coral Android app is a fast and handy tool for accessing a wide range of markets from your Android phone or tablet. It cleverly adapts to the size of screen that you're using and gives you a wide range of sports odds to bet on and casino games to play.
Follow the directions shown below to complete your registration and (assuming you are a new customer) you'll be eligible for the latest joining offer to use on the Coral Android app.  It's a simple enough task and should take you all of a few minutes.  (T&Cs apply, 18+, New customers only)
1. Follow this link to the signup page
2. Press the 'Join Us' button

3. Complete the on-screen fields with your information

After completing these steps you can access Coral using their mobile web app by creating a home screen link, or proceed with download options:
Coral App Download
Although you can't get a Coral app on Google Play, you can get access to Coral in an APK download via the BookieBoost app for Android.  BookieBoost is free and simplifies things by being a single point for your mobile betting needs. You can use the download link below to install it:

or tap on the button below to download the Android app once you have signed up:
Using the Coral Android App
Once you've installed BookieBoost and used it to access the Coral Android App, you simply press on the Coral Android app link from within BookieBoost to launch the app – and also access additional bookies, special offers and bet tools.
We like the way that Coral have made things simple to get this up and running and without the need to install any App Store crash-prone programs taking up disk space. Things are now ready for you to use.  Next up we look at what you can expect from the Coral Android app in a review of the major features.
Review of the Coral Android App
Once the Coral Android app has loaded on your screen you quickly realise that it's mainly about sports betting and games. And the big sports that run the most markets are football and horse racing.  These are fully catered for in the Coral Android app, with competitive football odds keen in-play betting coverage. Horse racing, bread and butter for bookmakers, is done really well on the app, with live races being streamed on to your Android.  The way to unlock this feature is by identifying the triangular icon (bottom right in the image) which is next to the race selection & the race card. To become eligible to view a live race, place a bet of £1 or over on that specific race.
To navigation now, and this is done very simply indeed. Journeying through the different areas of the Coral Android app is a piece of cake and that's down to the good design that has been implemented. As the scope of the app is quite narrow (Sports and Games betting), there isn't much of a reason to over-complicate things either, given the small screen can only show so much at once. In a nutshell, the Coral Android app's design is clean and simple which made our review go smoothly.  The app is also really quite fast.
A tip for those of you who prefer to see odds quoted in decimal rather than fractional.  Under the 'My Sports Extras' menu on the Coral Android app you can toggle the default of fractional to decimal odds.  It's done by pressing the 'Odds Preferences' button.
There's little doubt that the new customer offer on the Coral Android app makes it appealing.  It has become something of an industry standard to provide such incentives to entice new customers and it must be said that it works very well.  A nice straightforward signup bonus offer without any complications is always welcome. Always check the current incentive for details (T&Cs apply, 18+, New customers only) and enjoy using the the Coral Android app so you can take advantage of this offer.  You can go on to use it to place bets on a massive range of sports.
Now to the range of sporting activities that can be bet on.  Naturally, football and horse racing dominate this on the Coral Android app because of pure demand.  It does not stop there, however, by any stretch of the imagination. When using the Coral Android app, tap on the menu called 'All Sports' (the 'A-Z' icon) which is one level below the main menu. Then you can start to explore whichever of these takes your interest.  There are worldwide sports as well as more country-specific ones like American Football, Athletics, Australian Rules Football, Baseball, Basketball and  Gaelic Football.  In addition to this are the standard sports book fodder like Golf, Greyhound Racing, Motor Sports, Rugby Union, Tennis etc.
Our review team did some extensive odds analysis of the Coral Android app and found that it was very much in the right zone.  In many cases it was offering very similar or better odds as the as the other leading book makers on specific events. There often isn't much in such odds comparisons as the bookies need to be competitive thanks to the speed and transparency of the Internet in any case.
The look, feel and overall design of the Coral Android app is good if not spectacular. No gimmicks are really needed to distract the user from the purpose of what they are there to do which is to bet/gamble. During the review, our testers found the Coral Android app to be very responsive regarding connection speed.  This is akin to game play for video games – the end result is what matters.
The Coral Android app intelligently detects the kind of device that you have and adapts what it presents to you.  So, whatever Android compatible device that you might be using, the display looks right for that specific machine. This applies to desktop PC/Macs/other computers equally.
Casino Games on the Coral Android App
It would be remiss of us not to also devote some column inches to the games that can be played on the Coral Android app because it's not just all about sports betting here. The casino is actually a really big area on the app and the sheer bling and number of games on display is a bit overwhelming at first.  Browsing through the Coral Android app games section reveals that there are hundreds of options, which means that you can spend hours on end in it if you're not careful.
Examples of some of the games that you can play include The Incredible Hulk, Iron Man, Thor, Deal or No Deal.  Seems to be quite a bit of media theme-related links going on.  Roulette comes in several guises including live, 3D and multiplayer. There are loads of slots too – e.g. Check out Rocky and Gladiator. It doesn't mean that you have to be a tough guy to play, though.
About the Gala Coral Group, makers of the Coral Android App
The Gala Coral story began when Joseph Kagarlitski, (also known as Joe Coral) started his bookmaking business in 1926. He and pal Tom Bradbury-Pratt, ran speedway meetings and they went on to replicate their success in several locations and extended this to greyhound racing tracks.
In 1961 a change in the law in the UK enabled Joe to open up his first betting shop. Things really took off from there.  Coral is now part of Gala Coral Group Ltd. In late 1997, Ladbrokes acquired Coral but the UK Monopolies and Mergers Commission ruled that Ladbrokes shouldn't be allowed to retain ownership of Coral. The Group was then sold in and the end of 1999 Eurobet, an internet betting business was acquired. Then Group's underwent a name change to Coral Eurobet.  Gala merged with Coral Eurobet in 2005 in a deal worth over £2 billion to form Gala Coral.
Today, the group operates 1,800 UK betting shops as well as hundreds of Eurobet shops in Italy.
As is common amongst gambling companies, some parts of the business (particularly online gaming) are located in Gibraltar.
All of the specifics about the Coral Android app are accurate at the time of review and are subject to change. It is worth checking out the app frequently to see what they have happening for both the Coral Android app and Coral web site.
That concludes this comprehensive Coral Android app review. We highly recommend that you check out the rest of the apps who made the best Android betting app shortlist. For a dedicated list of top football betting sites, try Sports-Index (opens new window).

Coral Android app
App price: Free