How to get the
free bet bonus

& William Hill mobile app

The Home of Betting brings you the William Hill Mobile app, and here at betting sites info our review team highly rates it as is one of the best mobile betting apps going. The reasons for this are outlined below in the review although many visitors to this page are primarily interested in finding out how to access the app and take advantage of the free £30 offer for new customers.  Let's get right to that first, shall we?
Claiming the bets worth £30* for the William Hill Mobile app
It doesn't matter which mobile device you are using (Android, iPhone etc) because everything is handled by the mobile app itself, automatically detecting your phone or tablet when you go to William Hill's mobile app site.
1: Point your web browser at www.williamhill.com

2: Your device type will be auto-detected and then take you to the William Hill mobile site

3. On your device, tap/click on the "Add to Home Screen" icon

4. When you are on your Home Screen, the William Hill mobile app is there as an icon

The next thing you have to do whilst on the William Hill Mobile app is to open a new account to get your £30 free bet bonus*. Next we show you how to do that:
If you aren't there already,  go back to the William Hill mobile site and become a new customer.  Press the 'Join Now' button and then simply follow the directions, noting the terms and conditions.  This is a fairly short process, after which you can use using the William Hill mobile app on a plethora of sports and games.
Now that you are fully signed up as a new customer you're entitled to use the bet bonus and the way it works is that you bet £10 and get £30 in free bets. This is credited as 3 x £10 bets.  Terms & Conditions apply.  For certain devices such as iPhone and Android there is also a William Hill mobile app that can be downloaded from the app store but with apps there are potential downsides when compared with the mobile site version.  The mobile site won't crash like an app can and it won't take up any precious space on your mobile device either.  There have also been reports that the installed app is slow.  It is also gives you essentially the same thing which is access to William Hill's betting markets.
There is another way to get William Hill on your Android device should you prefer to download an installable Android app.  This is via the BookieBoost app for Android which includes William Hill and all of the other major bookies so you can access all of the bookies from the one place.
Here's our setup guide that shows you how to download and install the BookieBoost app so you can use William Hill:
The William Hill Mobile App Review
The William Hill mobile app has a lot on offer.  Looking through the main menu items you will see the main sections called Sports, Casino plus Games such as Bingo.  There are also virtuals and financials.   It's definitely one of the better designs compared with other betting apps that we've come across in others we've reviewed.  It also fits well with any screen although we do like to use tablets compared to smart phones when given the choice.  Clearly though, being a mobile app it's more likely to be the latter.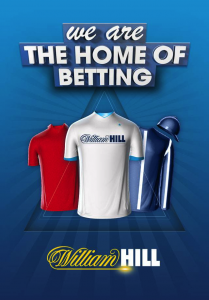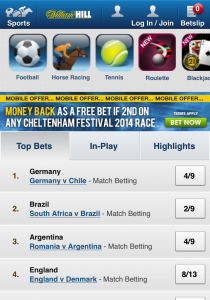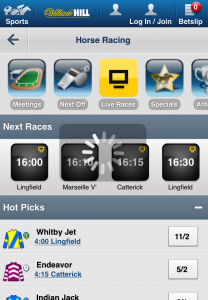 As you can see from the screen shots above (taken on an iPhone), there's a nice clean user interface that lets you see very clearly where everything is which is great for finding your way around the different areas of the William Hill mobile app.
We like the Bet £10, Get £30 in free bets that any new customer can avail themselves to immediately after signing up for the William Hill mobile app. T&Cs apply.
Hill is one of the best known and recognisable brands and has excelled with the William Hill mobile app. In coming to this conclusion we have taken into account factors such as the easy to navigate design, the ever-growing number of sports events to bet on, the how competitive the odds are, the what the casino, financials and games are like to play.
For these reasons and after much testing the William Hill mobile app has to be ranked as as one of the best mobile betting apps we've seen to date.
The company that brings you the William Hill mobile app is one of the world giants of the betting and gaming industry. With a tradition of betting dating back to 1934 when it was founded in Great Britain, William Hill shops sprouted up all over the place for decades way, way before the Internet was born. Being a publicly listed company on the London Stock Exchange (and in the FTSE 100 no less), William Hill is doing a lot of things right.
When taking all of these things into account, it is clear that the William Hill mobile app is following in the footsteps of a successful past and is certainly one of the best mobile betting apps our review team have tested.  We recommend that punters take advantage of their introductory bonus if they have not done so already.
As always with any betting apps, there's a minimum age limit which is strictly followed as well as limitations depending on which country that you are based in.
William Hill Mobile app
App price: Free
*For all offers, note that terms & conditions apply.