Stan James Mobile App – Get a £10 free bet
Now we look at the Stan James mobile app, including how to download the mobile app, take advantage of the free bets available and find out what the features are. The Stan James mobile app itself, like many of its rival apps, focuses on Sports Betting & Casino games. It can be used for mobile or on your home computer and detects which one of these you are using.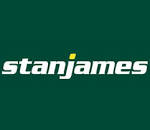 There has been quite a bit of thinking that has gone into the design of the Stan James mobile app. As well as automatically detecting your device which makes it adapt accordingly to the screen size, it renders well in the green and orange themed colour scheme. Therefore, it will work with the same functionality on an Android phone or tablet, iPhone/iPad, BlackBerry, PC and Mac. The Stan James mobile app gives its new customers a nice £10 free matched bet.
For starters, make certain of claiming the intro free bet which is an easy to usr £10 matched free bet. Read the quick guide in blue below to get going. Once done (a few minutes max) you'll be set up with the free bet as mentioned above.
1. On your web browser visit www.stanjames.com
2. Press the 'Join Now >>' button OR Find the 'Open Account' link.

3. Open an account by filling in the details

4. Add a "Home Screen" link on your device (see below)

How you create a home screen link depends on the device that you are using. The goal is to make a shortcut icon that lets you quickly access the Stan James mobile app later.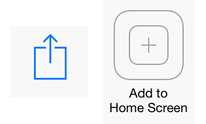 For iPhone and iPad this is achieved by using the icons that look like those on the right:
And with an Android device you can do the same thing with a few steps. In the web browser, hit the menu button and Settings >Star >Bookmarks >Save. After this, return to Settings > Bookmarks. The Stan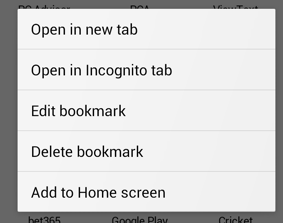 James app will now be bookmarked, so press and hold down on it. A new menu appears (see image to the left). Hit 'Add to Home screen' and that completes the task.
Using the Stan James Mobile App
Now you've completed the setup, whenever you go to your home screen you will now see that there is a Stan James mobile app icon sitting there for future quick use.
There isn't anything else that you have to to get going with this mobile app. It has advantages over an installed app in that it doesn't use up disk space and it won't give you problems with crashing due to programming bugs.
Our Review of the Stan James Mobile App
Getting your way around the Stan James mobile app is not difficult thanks to the chunky menu icons that are very visible. As already stated our review team was quite taken with the design which is an important part of the user experience. There are plenty of sports (a big focus of this app) and as you might expect the big ones are football and horse racing. Look across all of the links and you will also see that they have sections dedicated to games on the Stan James mobile app.
Then of course is the small matter of the free bets that can be claimed by all new Stan James mobile app customers. The way it works is that you Bet £10 and Get £10 – and we like the simplicity of that.  Again, this applies to new customer accounts and the qualifying bet must be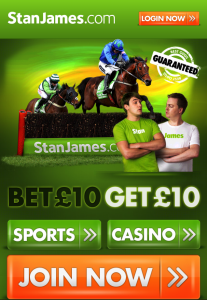 at odds of 4/5 (1.80) or greater. Every new customer to the Stan James mobile app can then use this matched bet to place bets on a range of sports.  It's good for golf betting and the odds are frequently some of the best on offer.
There are some stake restrictions applied on Stan James that some punters might not like.  However, they have a live chat service offering 24×7 support if you want to get in touch with someone and the response times are very good.
Being a mobile site when used on a handy mobile device, the app detects the make and model that you have and adapts the display accordingly. Naturally, it also works on PCs and Macs etc too.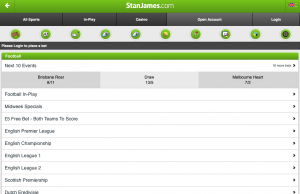 As mentioned earlier in the review, the Stan James mobile app has a great look and feel and we think that the SJ developers have done a nice job making the Stan James mobile app clean, simple and quick.
We have been doing some odds comparisons and the Stan James mobile app is certainly very competitive across a lot of markets.  You'll find that this is particularly true for the big events and UK domestic competitions.   Bets can also be placed via the Stan James call centre.
The Stan James app is certainly open to many countries and they accept the following currencies at time of review: AUD, CAD, CHF, CSD, DKK, EUR, GBP, HKD, IDR, ILS, JPY, MYR, NOK, NZD, RMB, RUB, SEK, SGD, THB, USD, VEB, ZAR.
We've outlined that the Stan James mobile app is good for sports but it also has casino games, like most betting and gambling apps today.  It seems that we can't resist the odd game of roulette, blackjack and slots (of which there are many variations here) and you can access these from the main menu.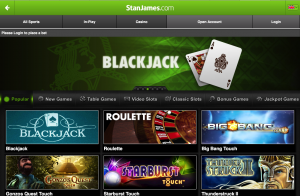 The offers are accurate at the time of review and are subject to change.  It is definitely worth checking out the app frequently to see what they have going on and this applies to both the Stan James mobile app and Stan James web site.
Stan James Mobile App – About the company
Stan James is a UK bookmaker which was established in 1973 and now has numerous bettings shops. The HQ is in Abingdon, Oxfordshire, UK and the online company is based in Gibraltar trading under the name StanJames.com.
That's about all for this Stan James mobile app review. You might also wish to check out the rest of the apps who made the best mobile betting app shortlist. For a dedicated list of top football betting sites, try Sports-Index (opens new window).

Stan James Mobile app
App price: Free