The bwin mobile app comes from a familiar brand.  Football fans will probably be aware of bwin from their sponsorship deals with the likes of Real Madrid, Manchester United, Juventus, Bayern Munich, Anderlecht and Olympic Marseille. We find their app to be simple to use, a

nd on signup we were able to easily claim the welcome offer. (T&Cs apply, 18+ new customers only)
You can use these links to download & install the bwin app for Android or bwin for iOS to do the same.  Alternatively you can download the BookieBoost app to access the welcome offer from the bwin mobile web app.
We recommend signing up on the mobile site first to secure the new customer offer where available.  Here's how…
bwin Mobile App: Register for the new customer offer
Your first step in order to claim the welcome offer is outlined below –  It's very easy to follow:
1. Visit the bwin registration page
2. Provide your personal details and complete the process

3. Add a "Home Screen" link on your device (see below)

Elaborating on point 3, creating a home screen link for the bwin mobile app (unless you are accessing bwin via the BookieBoost app) will provide access the bwin Mobile App from your device's home screen. On Android, tap the 'menu' button and then go to Settings->Star->Bookmarks->Save. Then, return to Settings-> Bookmarks. The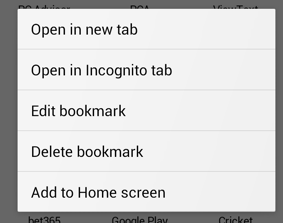 bwin mobile app will then be a bookmark, so press and hold your finger down on it. A new menu is shown (see left). Finally, touch 'Add to Home screen' and it is job done.
For Apple device users, simply use the 'Send To' and 'Add to Home Screen' buttons (see right)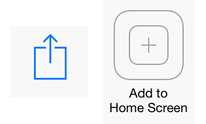 . Touching on these will make your home screen link to the bwin mobile app.
If you have a BlackBerry, just create your home screen link by tapping the menu icon and then select "Add to Home Screen". Then hit the Save button.
If you use BookieBoost, forget all of the above and just access bwin via the the "My Bookies" menu.
bwin App Direct Downloads
If you do want to install the dedicated bwin app on your device, use the following buttons:
---
Using the bwin Mobile App
From there on whenever you look at  your device's home screen you will see the bwin mobile app icon there as a shortcut – or if you installed BookieBoost just go via that app.
Review of the bwin Mobile App
The odds offered by bwin at the time of review were very competitive which of course is one of the most important factors in choosing a bookmaker.
At the top right hand corner of the app, access your user profile. It will show you your bet history results. Tapping on the three horizontal lines takes you to the menu section that includes settings and general information.  This includes useful Help and Contact sections should you need it.
Tapping on the "bwin" logo gets you back to the betting home page.  This is not as intuitive as it sounds at first, but once you realise it's the main menu you are able to get back to the main purpose of the bwin mobile app – betting!   It has various menu items including Live, Sports, Poker and Casino.
Go to the Sports section and you can choose matches using a pretty easy to use sub menu system.  As you would expect from a major bookie, you can bet on just about anything and this extends to sports like NASCAR, Ski Jumping, Speedway and Table Tennis.  It seems that there is something for everyone here.
The bwin mobile app uses a dark colour scheme – light text on a black background which makes it easy to read on the small screen.  It's a responsive design too which means that you can tilt your screen sideways and it adapts immediately.
As with other mobile betting apps, after you have made your bet selections these are automatically added to your betslip.  Again, this  which can be accessed from the top right hand corner of the bwin mobile app.
bwin offers in-play payouts or cash-outs during the course of some matches.  For example, if you are prepared to accept a return on your selection before the end of match, you can tap on 'Payout' to do so.  This appears under your Betting history section if you have a bet on a live game.
Want to view the app in a different language (hey, maybe you are bilingual)?  At the bottom of the screen touch 'Select language' and your app will magically be translated into the language you choose.  Good luck changing it back though!
Customer support can be a key point and bwin looks strong here.  With a wide variety of payment methods they claim to have over 100 customer pay-in and withdrawal methods. Options include credit cards, online wallets, bank drafts, mobile payments and pre-paid cards. Funds can be withdrawn on request, and paid out through one or more of these methods using a variety of currencies.
About the bwin mobile app's creators
Incorporated and licensed in Gibraltar, bwin is a result of the merger of bwin Interactive Entertainment AG and PartyGaming Plc in March 2011.  This merger created one of the world's biggest listed online gaming companies.
The Group has thousands of employees across Europe, India, Israel and the US and they have a strong market position in each of their product verticals, namely online sports betting, Poker, Casino and Bingo.
bwin's customer base is mainly based in Europe and they offer and support our products in multiple languages and currencies.
That wraps up our bwin mobile app review. You might also want to take a look at the rest of the apps who made the best mobile betting app shortlist or check out our review of Android betting apps.   For another list of the best football betting sites, try the Sports-Index (opens new window).
bwin Mobile app
App price: Free