The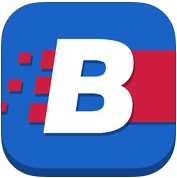 well-known bookmaker is fully portable with the Betfred mobile app.  Here's a guide for downloading the app for all supported devices, plus details of how to claim the joining bonuses.  With the mobile betting space a highly competitive one, our review team found that Betfred have ticked a lot of boxes with an appealing mix of sports, casino, games and regular promotions.
First, claim the joining offer on signup
You'll likely want to claim the opening offer for new customers if you haven't registered with Betfred.  To do this, follow the short guide below to get going. Once done (which only takes a few moments) you'll be set up to claim the latest joining offer (18+ new customers only, T&Cs apply).
1. On your device's web browser visit Betfred Mobile
2. Press the 'Register' icon

3. Register a new account by completing your details

Download the Betfred Mobile App
Once you've got registration sorted, you need access to Betfred mobile from a link on your device.  Android users can use the APK download button on the Betfred mobile site.
There is also an excellent app alternative for both Android and Apple users, and that is to download the popular BookieBoost app.  The reasons to do so are many;  BookieBoost is free, gives you a central place to conduct all of your betting activities though and is especially useful when you use more than one bookie.  Plus, it shows you all of the latest signup bonuses in one place.  As well as giving you instant access to Betfred mobile from Android or Apple devices, it includes a host of betting tools such as betting calculators, live sports results (including racing, football & tennis), free accumulator tips plus updated odds enhancement alerts so that you know about all of the special offers available. BookieBoost can be downloaded using the buttons below:
Once you have downloaded and installed BookieBoost, you can go to the 'My Bookies' area and access Betfred mobile.
For users of other mobiles (BlackBerry, Windows et al), you can make a home screen link to Betfred.  How you create a home screen link is different for the mobile device that you are using. It's a shortcut icon that lets you quickly access the the app later. For example, iPhone and iPad users do this by using the icons that look like those on the right.
---
Betfred App Review
Whichever mobile device you use, the responsive (i.e. adapts to your screen size) pages are mobile-friendly as you would fully expect.
The top of the screen has handy short-cut icons to the popular areas: In Play, Football, Horse Racing, Games, Casino and a lot more.  Swipe your finger to the left to reveal all of these menu items.  There are quite a few, perhaps a few too many in fact.  We found it simpler to tap on the main menu icon (the three short horizontal stripes) to reveal essentially the same items.
Goals Galore
One of the more popular games within the Betfred mobile app is Goals Galore.  How does this work, you ask.  Well, in short, the player is presented with a choice between the Long List Coupon or Bonus List Coupons.  From one of these, a selection of three or more matches where you think both teams will score is made.  Then a stake is entered and you have placed your bet.
So, Goals Galore is a type of accumulator with fixed odds and the punter only bets on whether or not both teams will score.  Pretty simple and we found this to be fun to play.
In Play is pretty well-promoted on the app (It's the first item on the menu) and no wonder.  This form of betting seems to be everywhere, especially for team sports like football, tennis, basketball and even ice hockey.  One tap on In Play reveals all of the live games for available sports categories at that time.   You can also see what's coming up for in-play betting.
It's not just about football on the Betfred mobile app, though.  When there are no actual races on, you can try your hand at Virtual Sports, where  (virtual) horse and greyhound races take place on a regular basis.  It might sound a bit strange (and actually it is a bit odd) watching computer generated nags racing along imaginary race courses.
This app also has games like Lotto and Totepool (including Placepots & Scoop6) where you can make some serious dough if things go your way.  If you are into games, it doesn't end there either.  Bingo, Poker, and more slots than you can shake a stick at.  These can be found under either the Games or Casino menus.
Betfred is seemingly always well represented at the race courses and it's no surprise that horse racing is well covered here. If you place a bet on some races, you can get live streaming video coverage which is becoming a standard thing across a lot of bookmakers.  Georestrictions apply, and a funded account required to view streams. Look for the video icon to see which races have this.  It's worth keeping an eye on their daily specials, too.
All in all, the Betfred mobile app has a pretty good if not spectacular design.  It's not entirely the best that we've seen (some parts seemed a bit clunky and we found that some menu items were a little confusing) but on balance it seems to do the job well enough.
One thing is for certain, and that is there is an awful lot happening on this app.
Support lines for Betfred customers are available on 0800 028 7747 (UK) and +44 1925 285023 (Outside UK) and they also have an email support address at [email protected].
Betfred – About the company
In 1967, Fred and Peter Done opened a betting shop in Salford, England and Betfred was born.  Betfred the company has grown massively since then and it is now headquartered in Birchwood, Warrington, UK. As well as the many bricks-and-mortar betting shops around today, you may have seen one of the numerous Betfred commercials in the media.
Betfred Mobile Compatibility
Android and iOS
Windows Mobile
Blackberry
Google: Galaxy Nexus, Nexus 4, Nexus 5 HTC: Desire, Desire S, Desire X, Desire HD, Incredible S, Sensation, Sensation XE, One, One Mini, One V, One S, One SV, One X, One X+, One XL, One M8 LG: Optimus 4X HD, LG G2, LG G3 Samsung: Galaxy S, Galaxy S2, Galaxy S3, Galaxy S3 LTE, Galaxy S3 Mini, Galaxy S4, Galaxy S4 Mini, Galaxy S5, Galaxy Ace 2, Galaxy Note, Galaxy Note 2, Galaxy Note 2 LTE, Galaxy Note 3, Galaxy Mega 6.3 Sony: Xperia E, Xperia M, Xperia M2, Xperia S, Xperia SP, Xperia T, Xperia Z, Xperia Z1, Xperia Z1 Compact, Xperia Z2, Xperia Z3, Xperia Z3 Compact, Xperia Z Ultra Motorola: RAZRi, RAZR HD, Moto G, Moto X. Apple devices: iPod touch, iPhone 3, iPhone 3GS, iPhone 4, iPhone 4S, iPhone 5, iPhone 5S, iPhone 5C, iPhone 6, iPhone 6 Plus The new iPad as well as iPad, iPad 2, iPad 3, iPad 4, iPad Mini, iPad Air & Air 2
HTC Touch, HTC S710, HTC Touch Pro, HTC Touch Pro2, HTC 7 Trophy, HTC HD7, HTC Radar, Samsung Omnia Pro, Samsung Omnia II, HTC HD Mini, LG Optimus 7, Nokia Lumia 710, Nokia Lumia 800, Nokia Lumia 900, Nokia Lumia 620, Nokia Lumia 820, Nokia lumia 920, Any Windows Mobile 5, Windows Mobile 6, Windows Mobile 6.5, Windows Mobile 7 or Windows Mobile 7.5 Device & Windows Mobile 8
Blackberry Curve 9380, Blackberry Bold 9790, Blackberry Curve 9360, Blackberry Curve 9320, Blackberry Torch 9810, Blackberry Torch 9860, Blackberry Torch 9850, Blackberry Bold 9900, Blackberry Playbook, Blackberry Bold 9780, Blackberry Curve 9300, Blackberry Curve 9320, Blackberry Torch 9800, Blackberry Pearl 9105, Blackberry Curve 8520, Blackberry Bold 9700, Blackberry Storm 9500, Blackberry Playbook, Blackberry Z10 & Blackberry Q10
Download Now
Betfred Mobile app
App price: Free
That's all for this Betfred mobile app review. You might also wish to check out the rest of the apps who made the best mobile betting app shortlist.

You might also like: